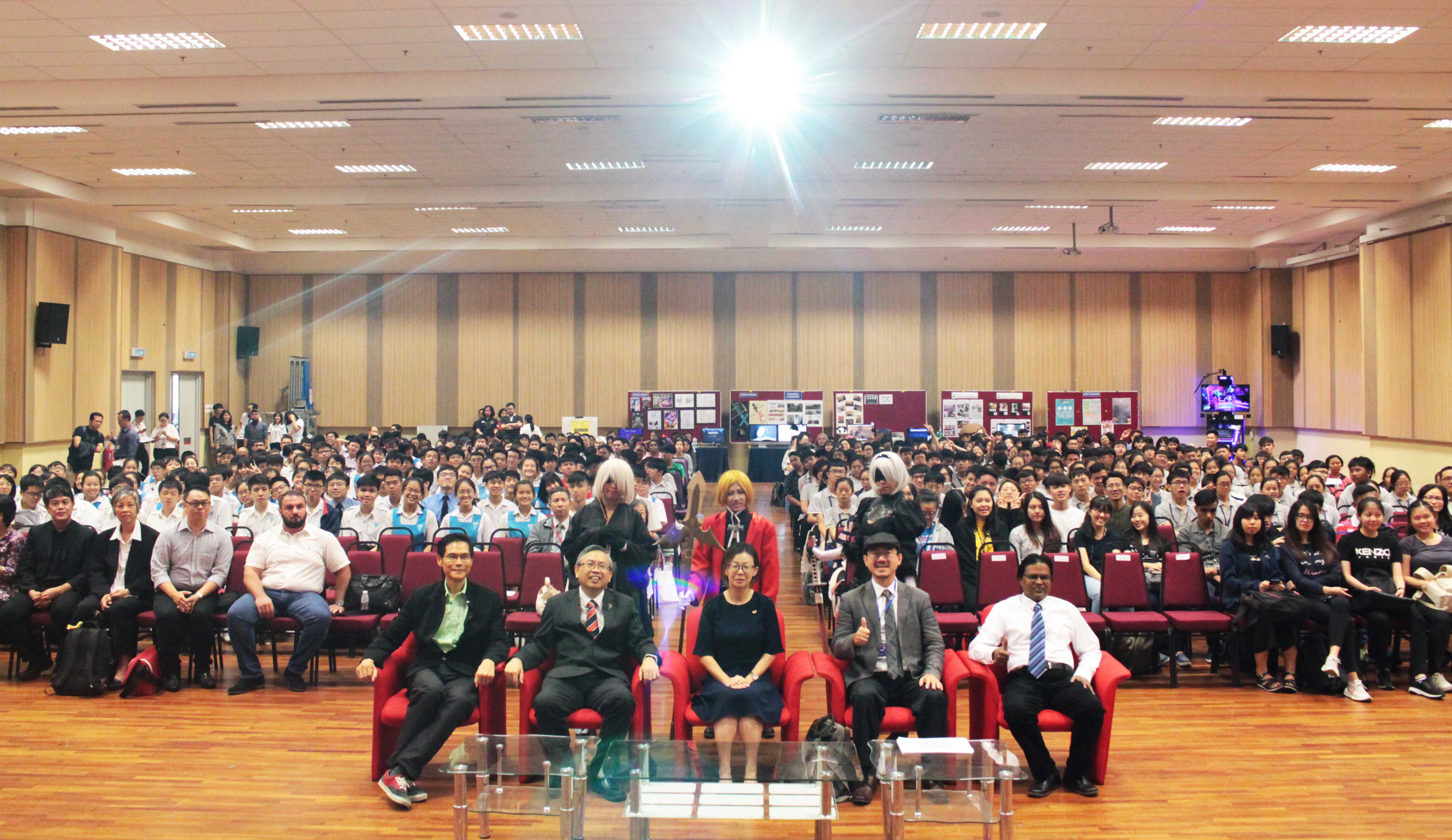 Front row, from left: Tan, Prof Ewe, Lin, Dr Chen and Thinavan with participants
(Courtesy pictures from Eyok)
UTAR Faculty of Creative Industries (FCI) together with Taipei Economic and Cultural Office (TECO) organised a two-day event titled "Redefining Reality: Traversing Culture between VR (Virtual Reality) and AR (Augmented Reality) in Creative Media" on 1 and 2 July 2019 at UTAR Sungai Long Campus. It was the third instalment of the "Little Spotlight" series between UTAR and TECO, following the success of past years' events.
The event aimed to create a shared platform for Malaysian and Taiwanese talents to share ideas, techniques and concepts with each other through a seminar and expand the exposure and interconnectivity between the two cultures. In addition, it also aimed to explore the potential of VR and AR in the various media platforms and different industries as well as to promote the technology and its various applications to a wider cross-cultural audience in Malaysia and Taiwan.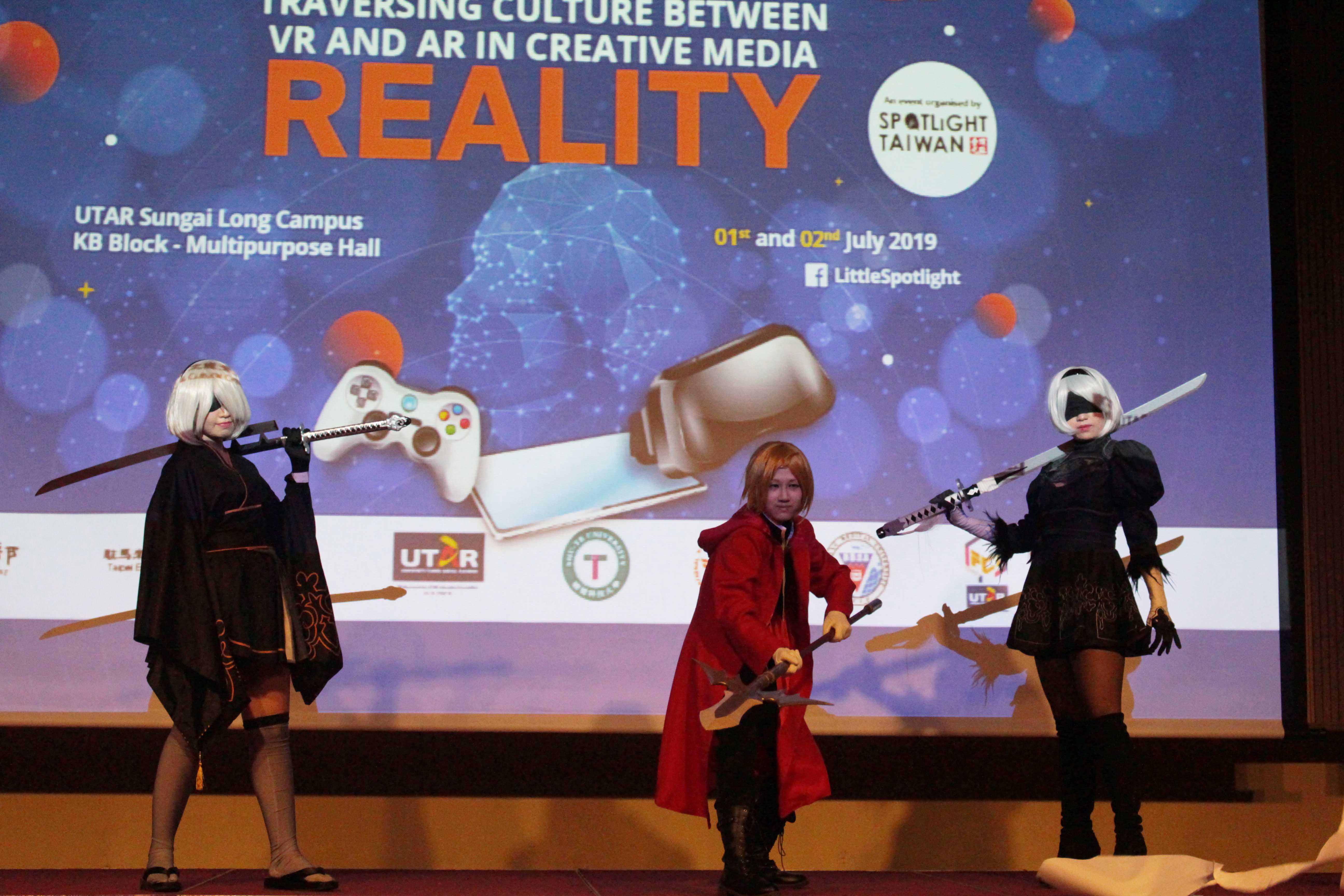 UTAR cosplayers, from left: Weinie Loo Wei Yie, Chong Lie Zhi and Wong Sze Yin during the opening gambit
(Courtesy pictures from Eyok)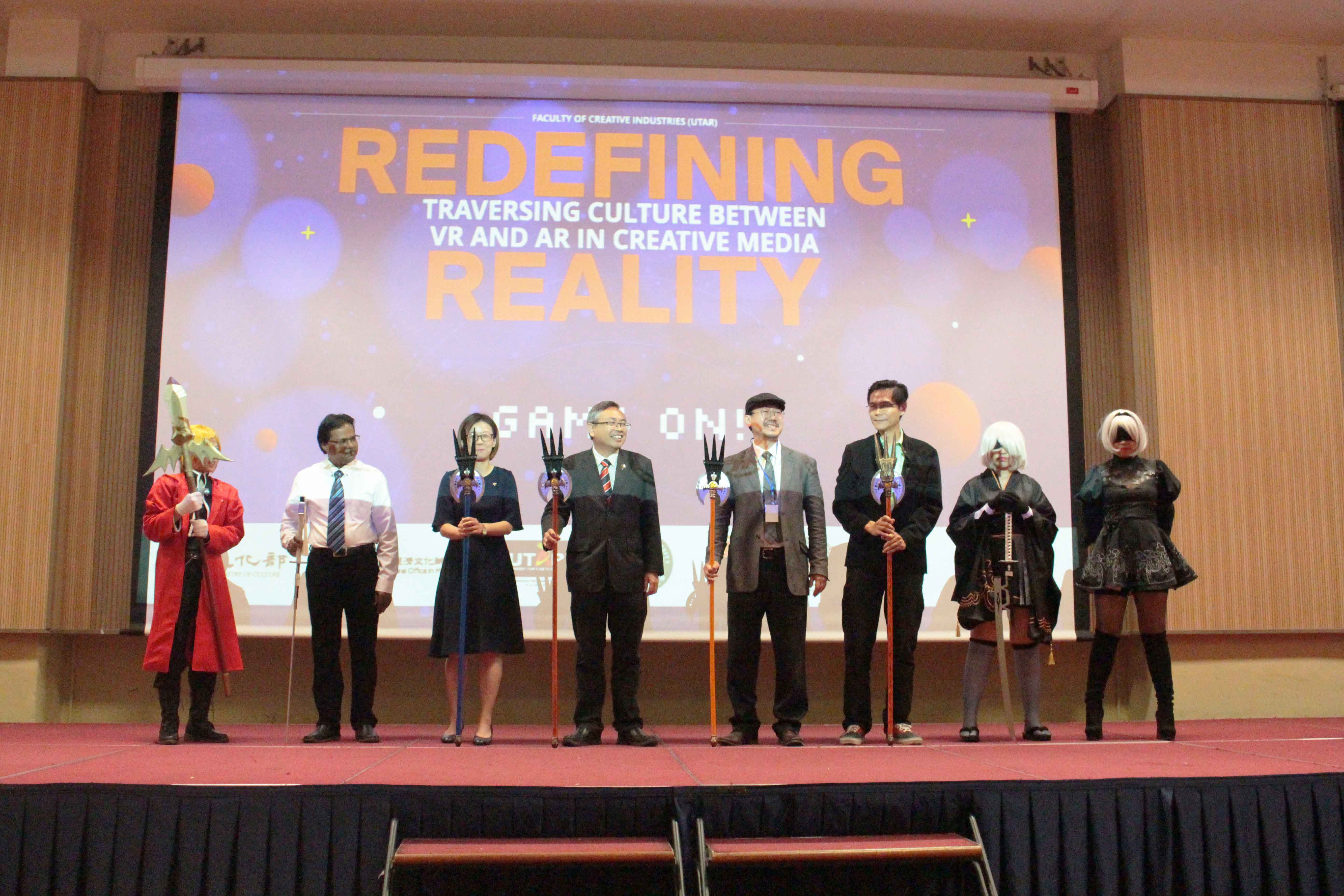 Second from left: Thinavan, Lin, Prof Ewe, Dr Chen and Tan officiating the opening ceremony
(Courtesy pictures from Eyok)
The event saw an opening gambit by UTAR cosplayers. It was officiated by UTAR Vice President for Internationalisation and Academic Development Prof Ir Dr Ewe Hong Tat, TECO Culture Division Secretary Lin Jenching, keynote speaker from Shu-Te University, Taiwan Assoc Prof Dr Chen Tin-Kai, UTAR FCI Deputy Dean for Academic Development and Undergraduate Programmes Assoc Prof Thinavan Periyayya and FCI Head of Department of Games Studies Tan Han Keong. Also present at the opening ceremony were speakers from Taiwan and Malaysia, UTAR staff and students and students from Sekolah Menengah Universal Hua Xia, Pin Hwa High School, Kuen Cheng Private High School, Tsun Jin High School, Kwang Hua Private High School, Chong Hwa Independent High School and Sunway University.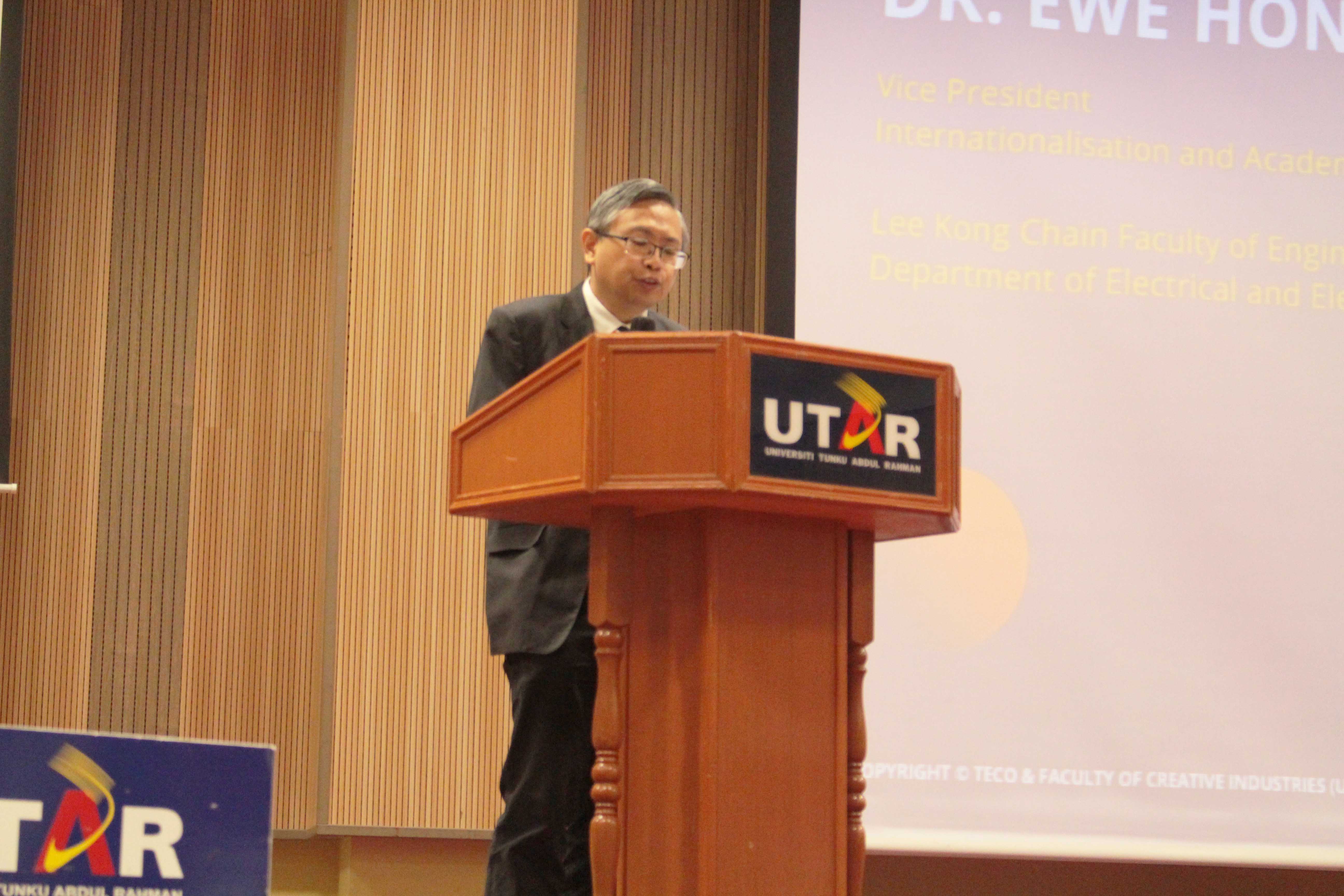 Prof Ewe expressing his appreciation to TECO for their continuous support
(Courtesy pictures from Eyok)
During the opening ceremony, Prof Ewe expressed his appreciation to TECO for their continuous support and for arranging an event that greatly benefits UTAR staff, students and the community. "The theme 'Redefining Reality: Traversing Culture between Virtual Reality (VR) and Augmented Reality (AR) in Creative Media' strongly reflects the current reality nowadays. In recent years, you must have heard about VR and AR, especially in online games and animated movies. Such technology has invaded all aspects of learning even in medical science and even now in culture. This will continue to be an influential trend in the years ahead," said Prof Ewe.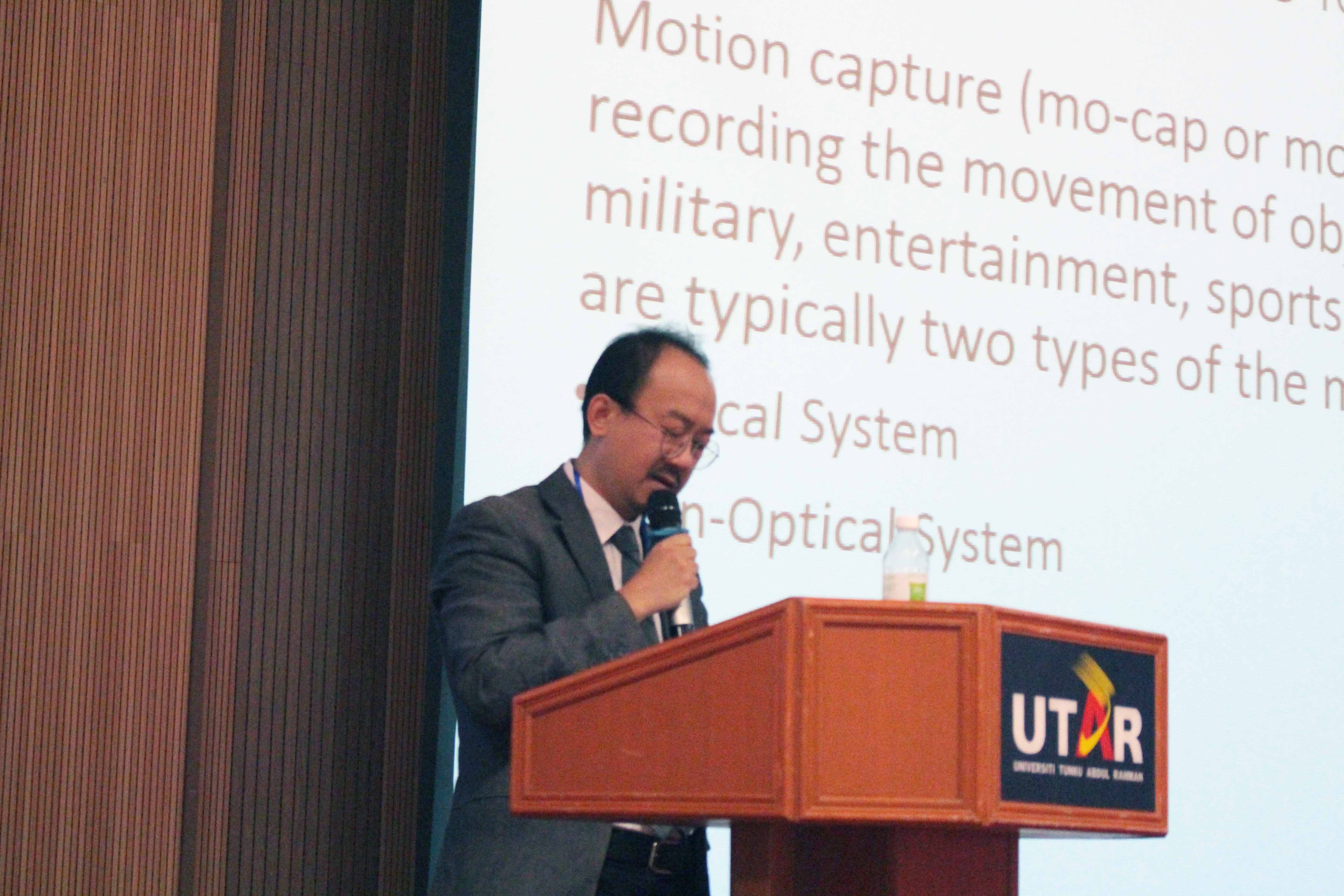 Dr Chen presenting his keynote address
(Courtesy pictures from Eyok)
A keynote address titled "Global Market of VR Entertainment and Introduction to VR eSports" was presented by Dr Chen. He said, "In 2019, according to NewZoo.com survey, the total eSports revenue is $1.1billion, a year-on-year growth of +26.7%. The highest–grossing individual eSports revenue stream worldwide is sponsorship, generating over $450million, followed by media rights, advertising, merchandise and tickets and game publication fees. The fastest-growing eSports revenue stream by far is media rights. eSports is already one of the most disruptive trends in gaming, media and location-based entertainment. While VR eSports resembles traditional eSports, there are several key differences. In Greenlight Insights' new report, you can obtain the key regional, distribution and content trends defining this hyper-growth market. With more events, more investment, more games and more awareness, it should come as no surprise that the global eSports industry is anticipated to continue to grow in the coming year." He also shared two videos of his industrial projects on VAR Box and VAR Cube. Before he ended, he extended an invitation to the participants to participate in the 5th International Workshop of Creative Computing in Game, Animation and e-Sports (IWCCGAe) which will be held in Tokyo, Japan on 9 September 2019.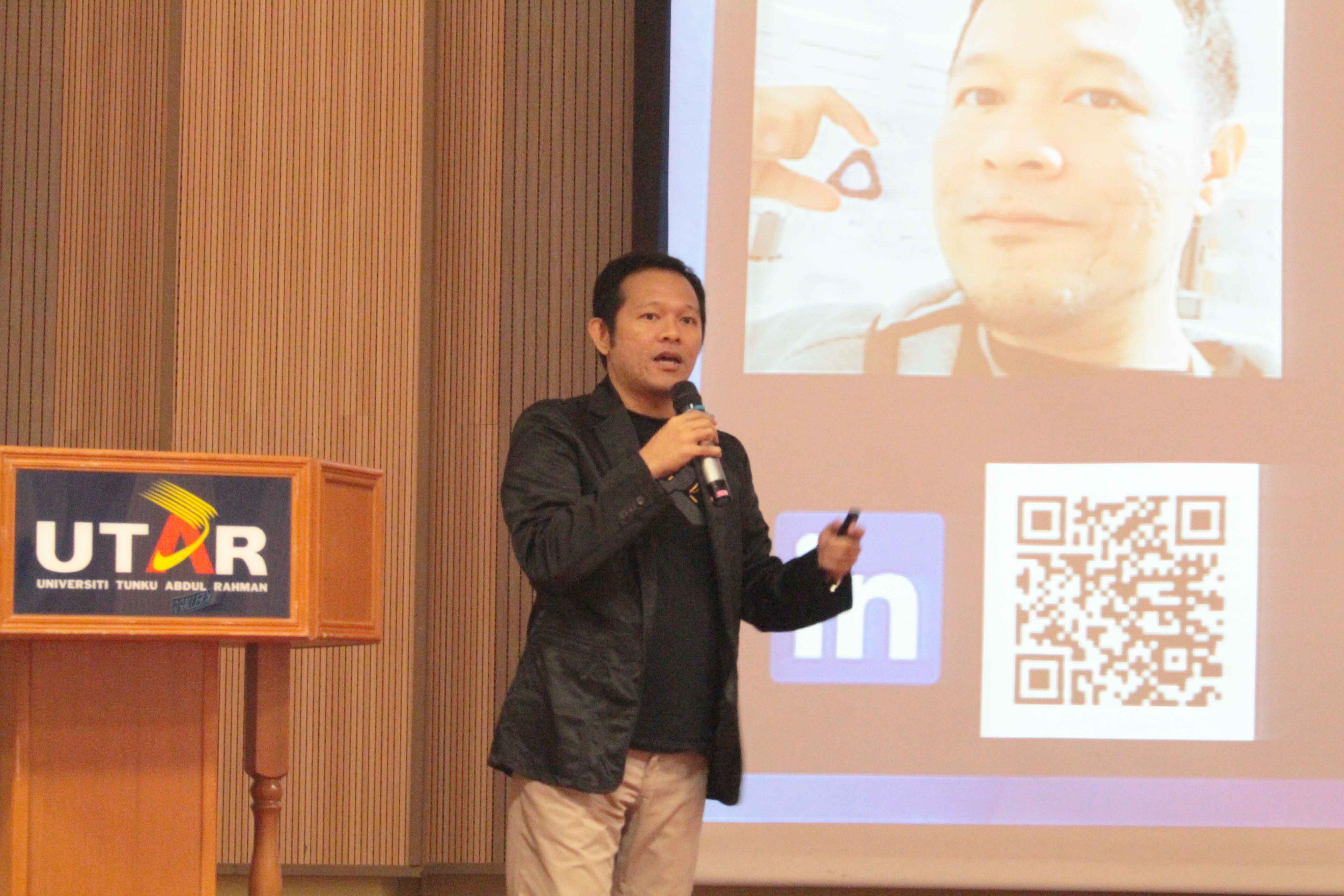 Havene Liew presenting a talk on VR Application for Game and Movie
(Courtesy pictures from Eyok)
On top of that, a series of talks was conducted by several speakers. The first speaker was Founder of XR Associates, Malaysia Havene Liew with his talk titled "VR Application for Game & Movie". He began the talk by explaining the differences between AR and VR. He also explained to the audience how VR and AR are widely used in games and movies. Besides, he also shared some actual use case of interactive features in VR and the interactive mobile apps in AR. A behind-the-scenes shot of VR commercial "Mercedes-Benz Beijing "Escape" E-Class", produced by Funique VR Studio, was shown to explain how VR is used in an advertisement.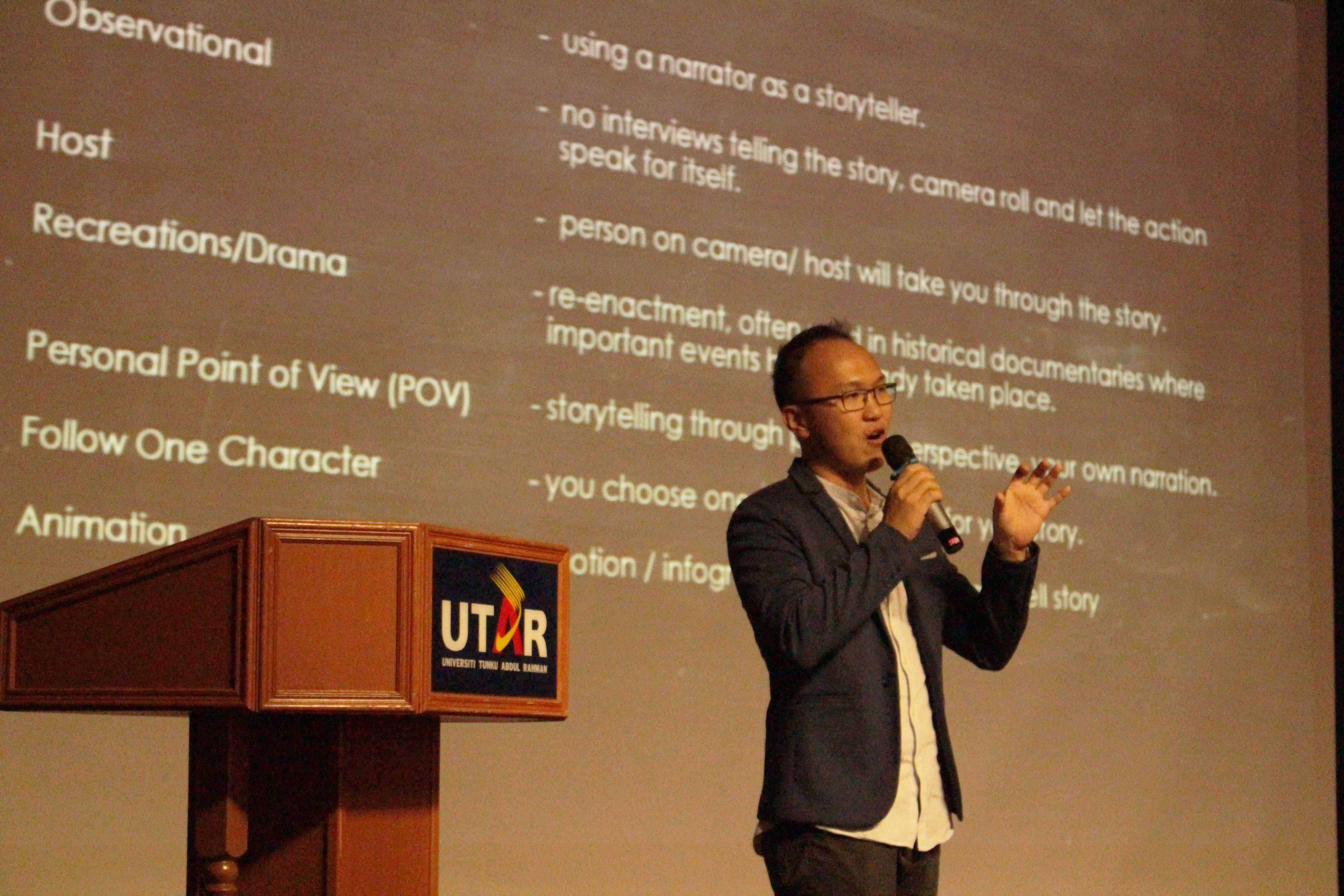 Justin Wong explaining the difference between traditional filmmaking and VR filmmaking
(Courtesy pictures from Eyok)
The Founder of TrueXR, Malaysia Justin Wong Wee Hin presented a talk titled "Storytelling in VR". He explained to the participants the two types of DoF (Degrees of Freedom), namely 3 DoF and 6 DoF. The DoF refers to the freedom of movement after wearing a headgear. Later, a video on how a game engine was used to simulate the past during his production on "Documentary series about Langkawi Island" was shown. He also showed the difference between traditional filmmaking and VR filmmaking; how traditional and VR film storyboard and story structure looks like.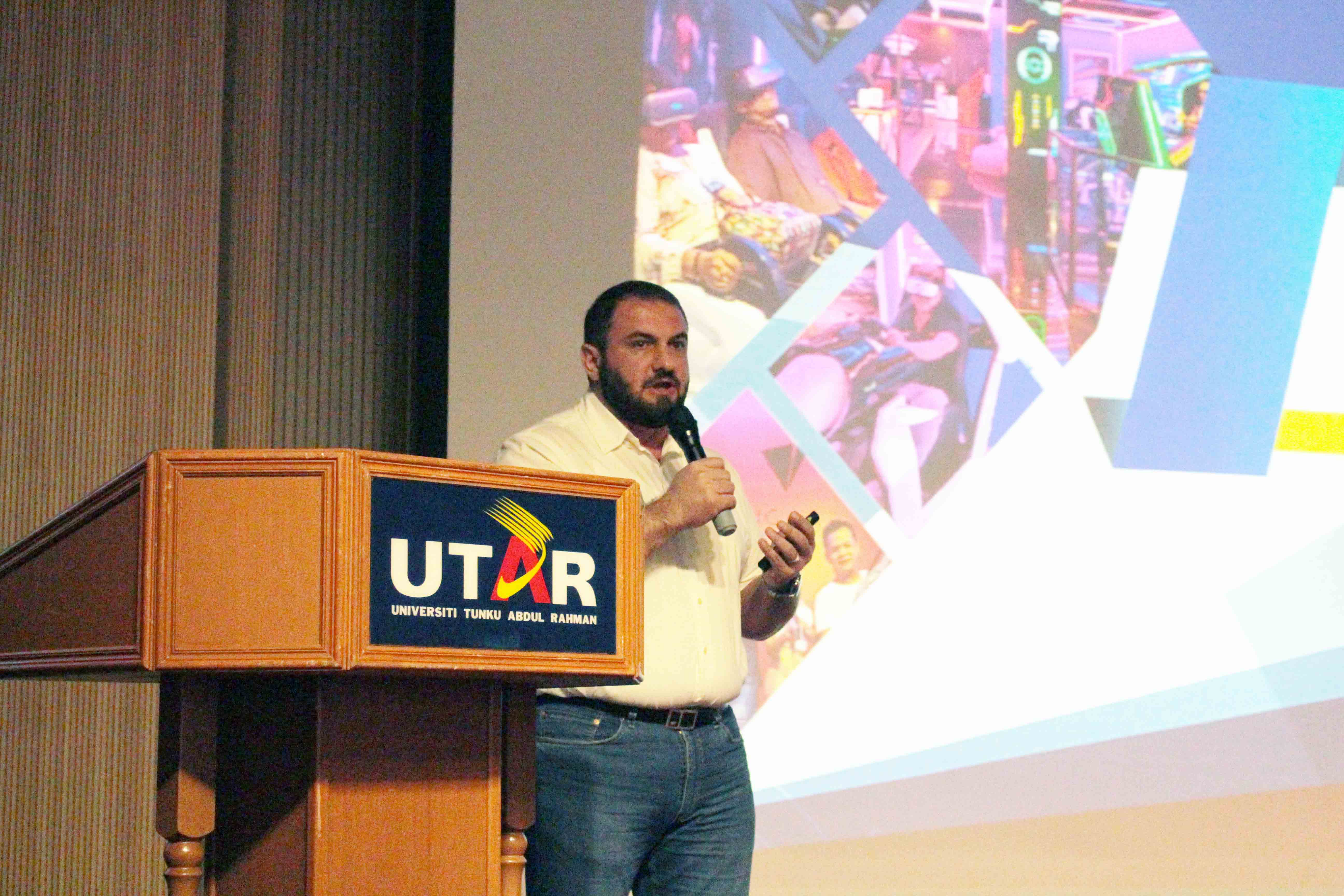 Emil Petrosyan explaining the history of VR
(Courtesy pictures from Eyok)
Sentels Sdn Bhd Founder-cum-CEO Emil Petrosyan delivered a talk titled "VR/AR Development Path in Entertainment industry". "VR existed even before human learnt to communicate; it existed in our dreams. The existing things in our lives and what we are experiencing now are the result of our dreams," said Emil Petrosyan. He then explained the history of VR and gave a brief introduction about VR and AR. He also showed some VR machines found in one of his branches called "Future Land Fun Zone" located at Sunway Pyramid. They included 360-Degree Fighter Jet Simulator and VR Racing, to name a few. He also mentioned about the possible future of VR and AR such as the possibility to share imagination, which might be a great help in the area of education.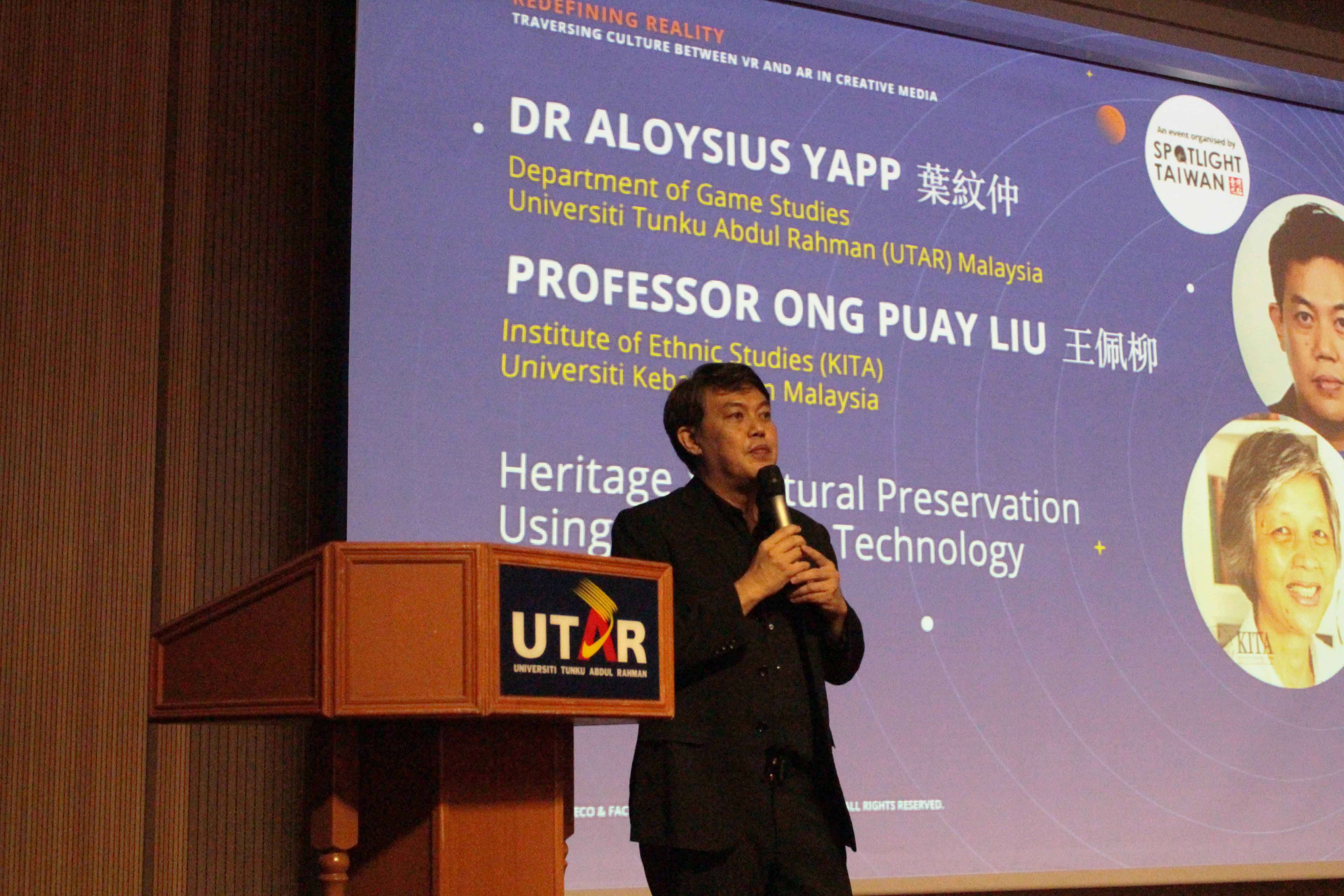 Dr Aloysius Yapp preserves the Iban culture using immersive technology
(Courtesy pictures from Eyok)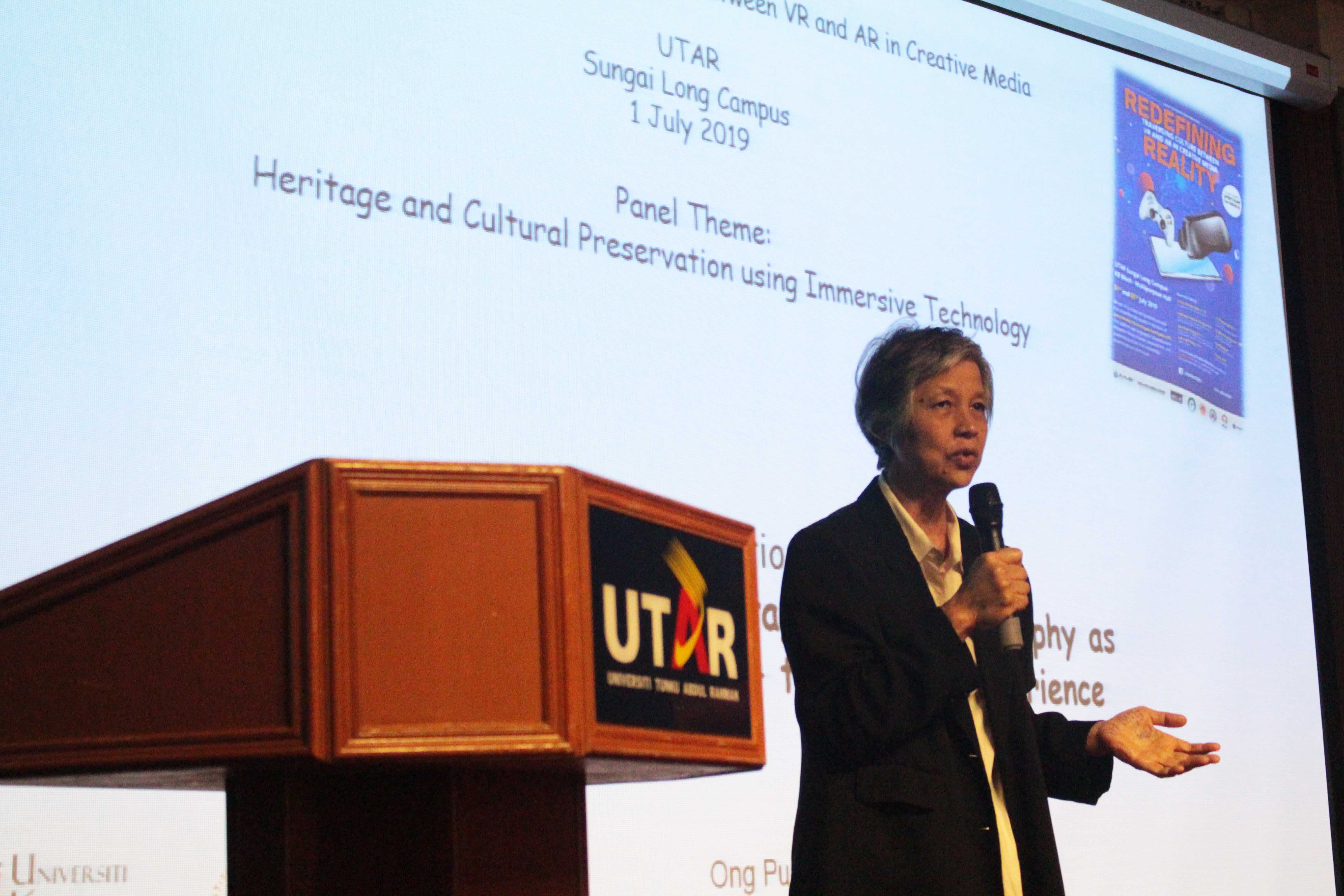 Prof Ong sharing her experience of being an ethnographer
(Courtesy pictures from Eyok)
UTAR Centre for Immersive Technology and Creativity Chairperson Dr Aloysius Yapp presented a talk on "Heritage & Cultural Preservation using Immersive Technology". He said, "We are doing something related to conservation and preservation using new media, namely the immersive technology to preserve the Iban culture," said Dr Aloysius Yapp. He then played a game called "Ngasu", designed by his research team. "Ngasu" incorporates a hunting process in the game as it is important for the Ibans. The game imitates the natural environment of Sarawak, thus providing the game players with real-life simulation. Players will discover traditional longhouses and some traditional items like antique television and radio in the game. The players will also be able to listen to traditional music while playing the game.
Universiti Kebangsaan Malaysia Institute of Ethnic Studies (KITA) Prof Ong Puay Liu, on the other hand, presented on "Sustaining Cultural Heritage with Ethnography as Immersive Technology - the Rungus Experience". In the talk, Prof Ong shared her experience of being an ethnographer. She also made a comparison between VR and ER (Ethnographic Reality). On top of that, she also shared with the audience the story behind the longhouses and said, "It is fascinating to understand and know why people live in a longhouse." An interior look on how Rungus longhouse in Sabah looks like and the livelihood in Sabah were also shared by Prof Ong. She also proposed to the creator to consider using ER to create meaningful dialogue and experiences while looking for inspiration.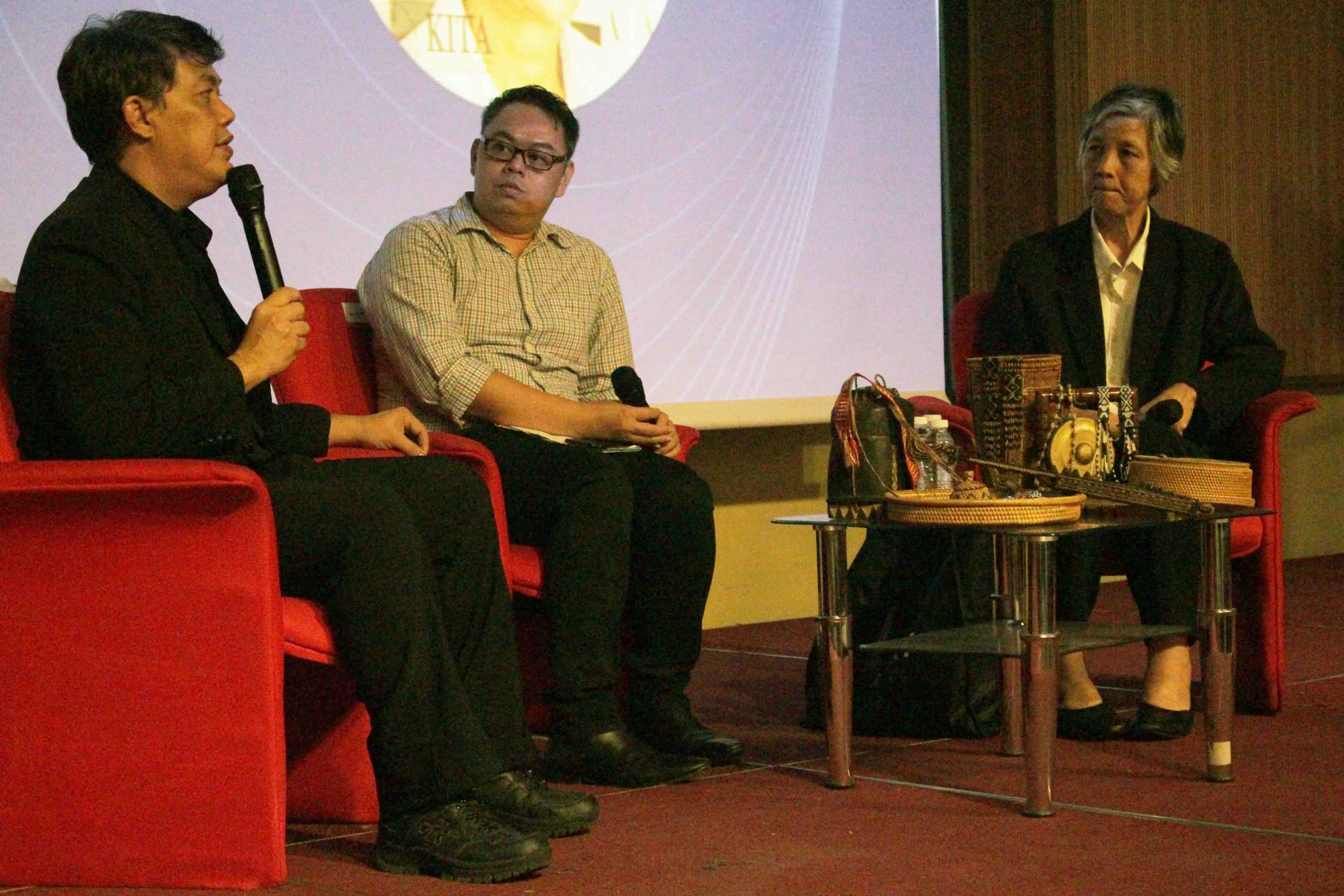 From left: Dr Aloysius Yapp, Dr Loo and Prof Ong during the panel discussion
(Courtesy pictures from Eyok)
A panel discussion was held between Dr Aloysius Yapp and Prof Ong with FCIDeputy Dean for R&D and Postgraduate ProgrammesDr Loo Hong Chuang as the moderator to discuss further on their topic. When asked about the difficulty faced in bringing team members from different background to Iban longhouses for documentation, Dr Aloysius Yapp said, "After we received the funding from UTAR, I managed to convince some of my team members to visit my hometown. I wanted them to experience nature by themselves. Although we have practitioners who are good in game design and animation, they still have no idea about cultural preservation. I do agree with Prof Ong that it is hard to preserve the culture. So, we are doing our best to use the immersive technology platform to introduce and include as many elements as we can in the game. The game that I showed earlier was the fourth level, we are trying to put NPCs (non-player characters), a virtual guide who can speak either English, Iban or Malay in the next level." Meanwhile, Prof Ong was asked on how to encourage Malaysian to take concern about their heritage, to which she answered, "The first step to tackle the issue is education. This is because we do not learn about understanding other people's religion in our textbook. We also do not learn about our heritage. When we watch VR, it is always about war, fight, violence and competition, to what extent does the content portray cooperation, peace and mutual understanding?"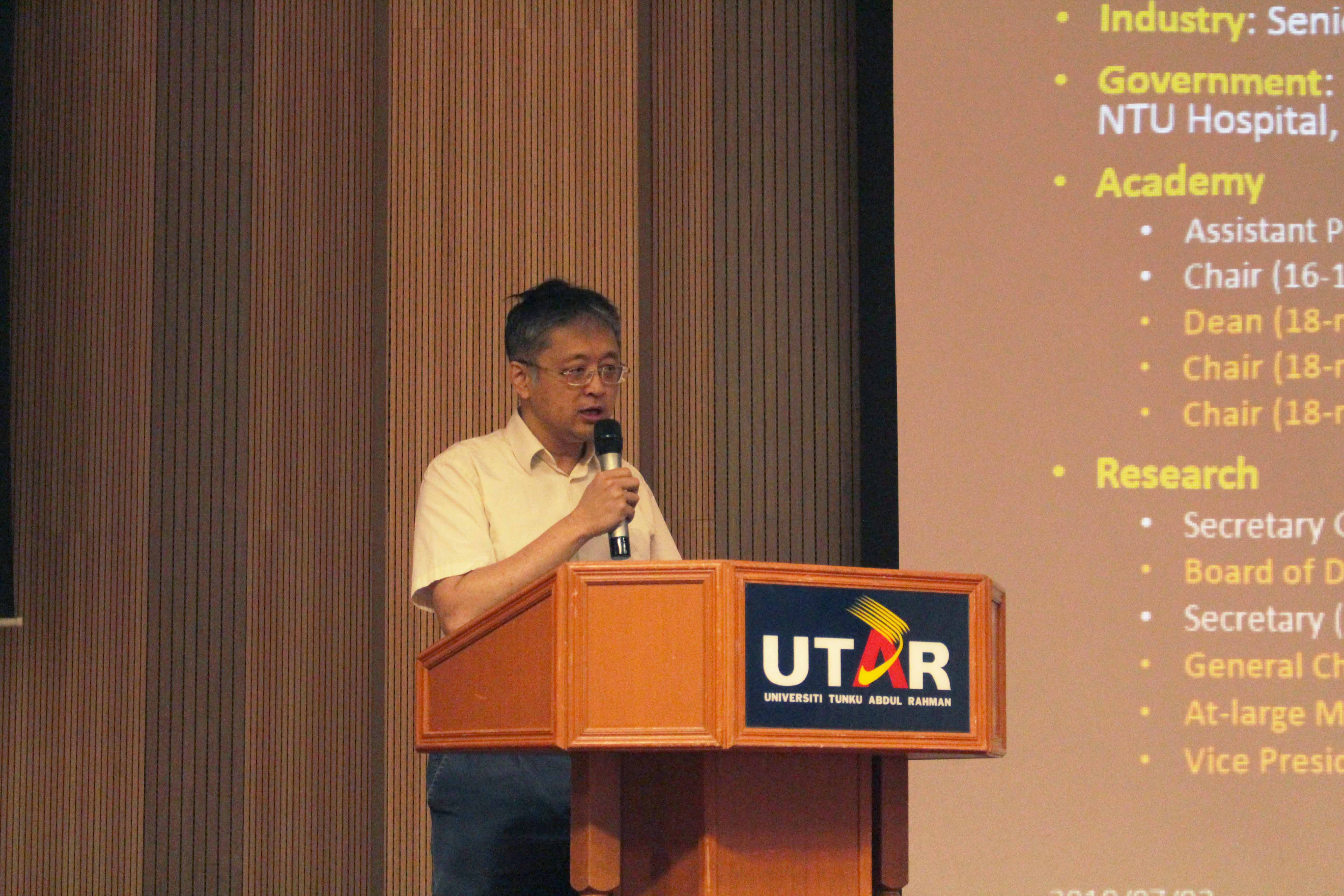 Prof Cheng giving a talk on Human-machine co-learning with Artificial Intelligence
(Courtesy pictures from Eyok)
The second day saw National Kaohsiung Normal University, Taiwan Department of Software Engineering & Management Prof Cheng Po-Hsun presenting his talk title "Human-machine co-learning with Artificial Intelligence (AI)". Prof Cheng's talk described a number of use cases spanning AI, Machine Learning, AR and VR that are propelling enterprises to realise the significant value, increase efficiencies and provide unparalleled customer and employee experiences. Some of the examples provided were AI Virtual Lead Anchor in China and two robots namely, Vincent and Nancy, acquired to help in teaching coding and computer programming skills in Westport Library, Connecticut, USA, to name a few. He also introduced the "Hololulu" which was developed by the National Kaohsiung Normal University Information Education Center on 1 January 2019.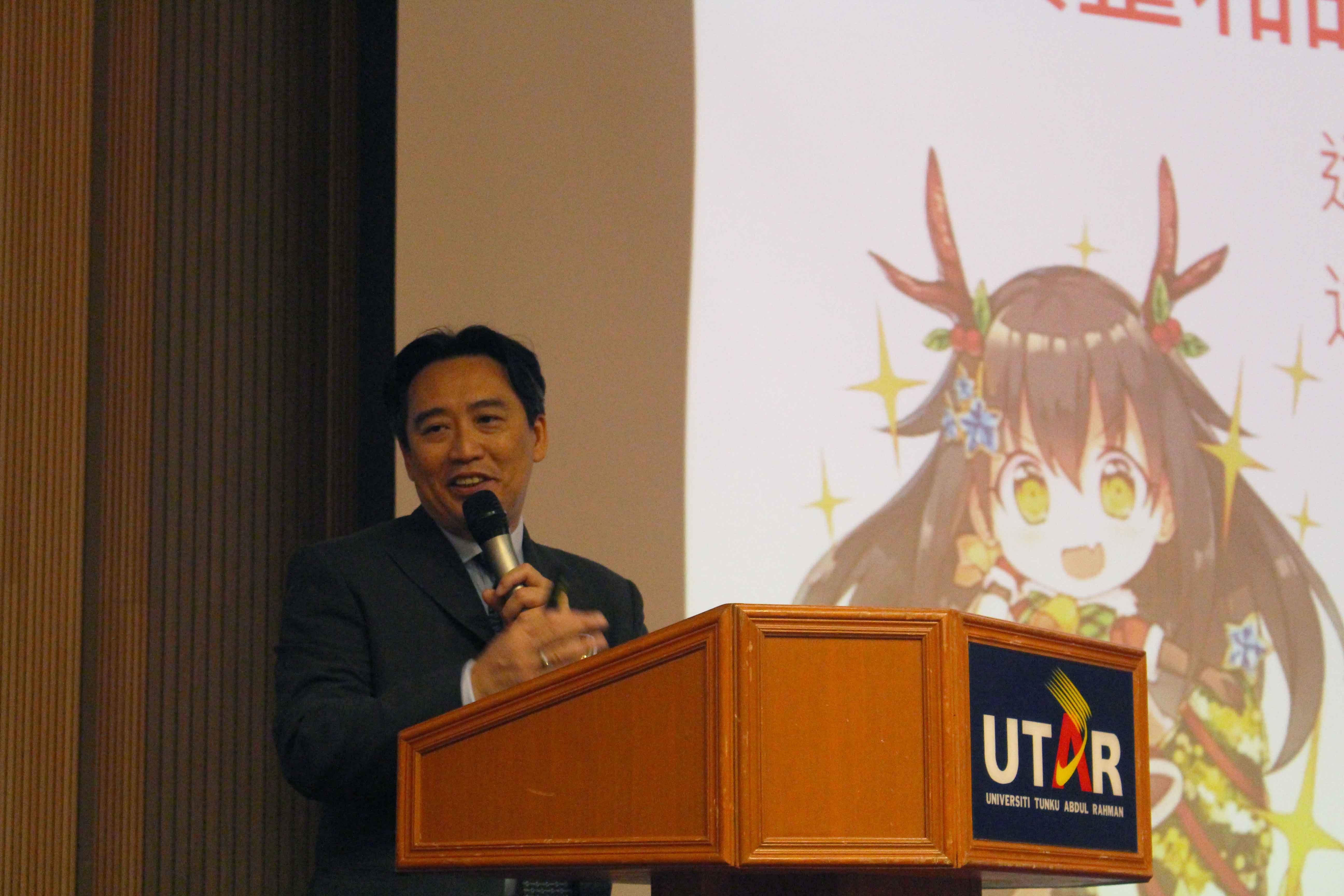 Chang introducing a virtual character named Mia
(Courtesy pictures from Eyok)
Kaohsiung Medical University Chung-Ho Memorial Hospital Malaysian Development Department Chief Executive Chang Nai-Chen, on the other hand, presented on "Virtual marketing, using virtual characters and VR technology marketing". During the talk, he introduced "Mia"- a virtual character, designed as an office girl using the combination of reality and VR. Mia was created to promote Kaohsiung city, Taiwan to the public, especially to the youngster. "With the creation of 'Mia', it has been a buzz and it has successfully captured the public's attraction; and now 'Mia' has her own fandom. 'She' is not only the ambassador of the city but 'she' is also the spokesperson. This has created a hot topic in Kaohsiung city and has created the diversification of the city's endorsement," said Chang.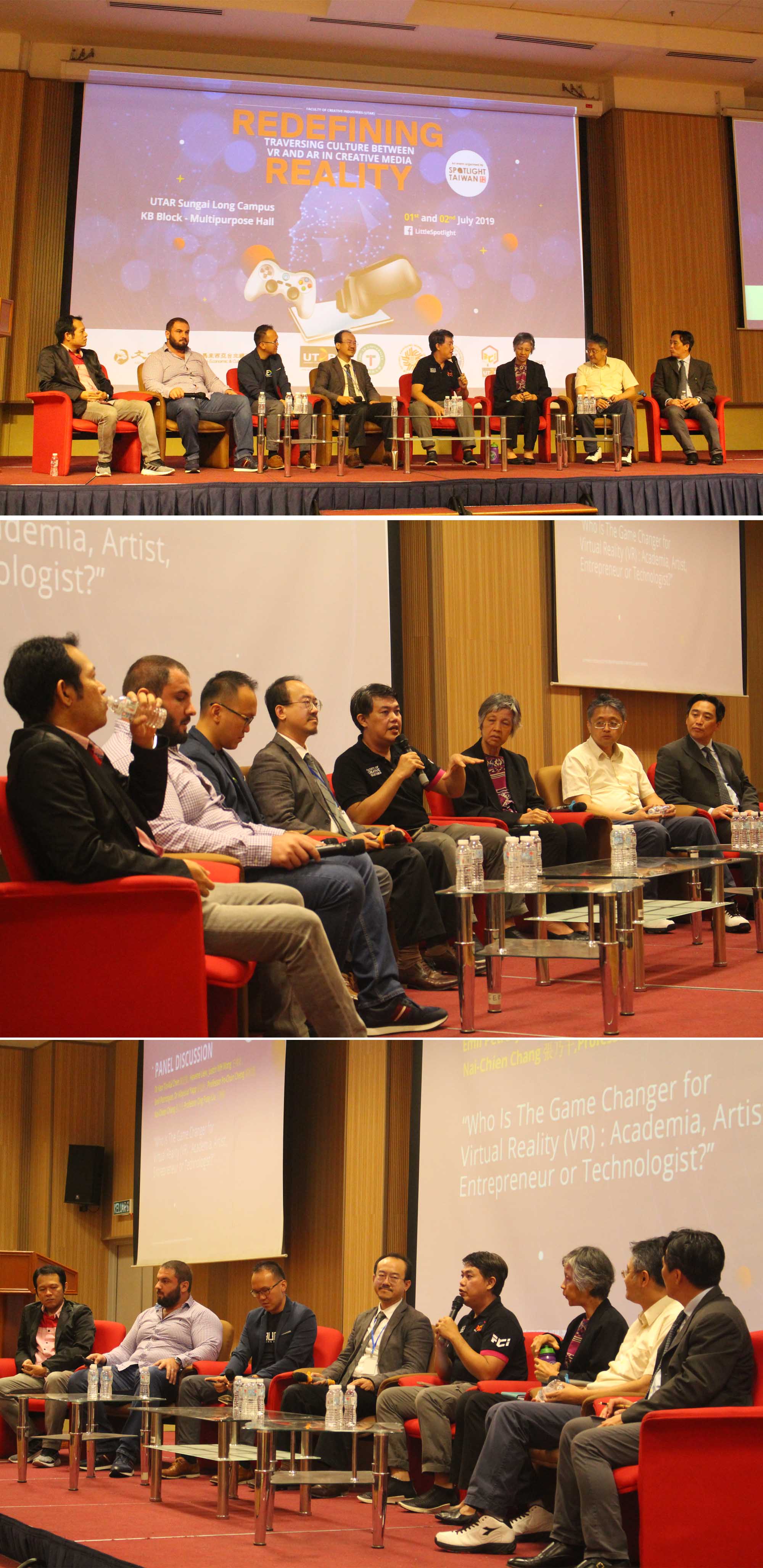 Seated from left: Havene Liew, Emil Petrosyan, Justin Wong, Dr Chen, Dr Aloysius Yapp, Prof Ong, Prof Cheng and Chang during the final panel discussion
(Courtesy pictures from Eyok)
The event took a grand finale with a lively panel discussion on "Who is the game-changer for VR: Academia, Artist, Entrepreneur or Technologist". The speakers elucidated on what is the next level of VR, how it will be and what should be expected in the years to come.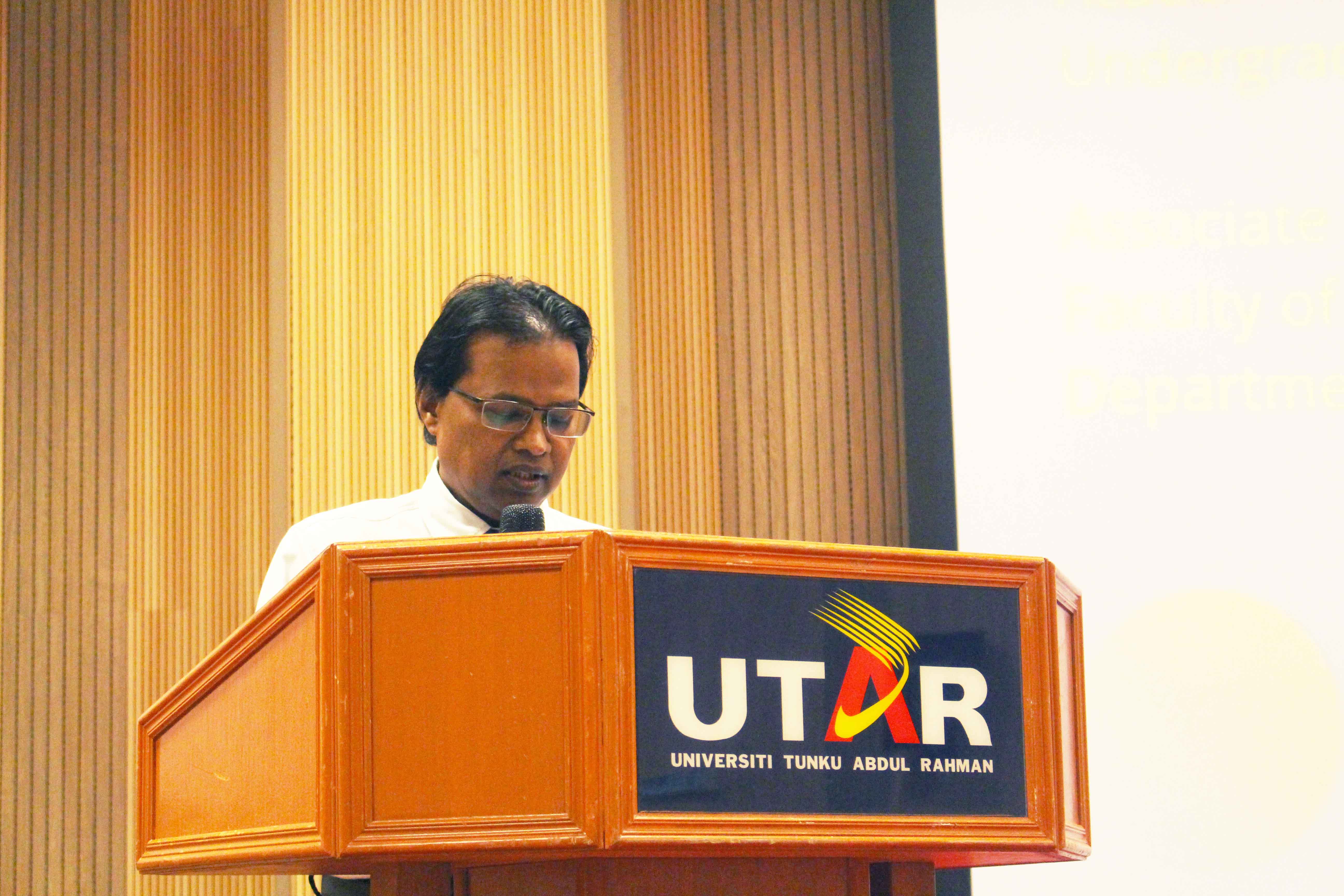 Thinavan thanking TECO for the collaboration opportunity
(Courtesy pictures from Eyok)
Speaking at the closing ceremony, Thinavan expressed his appreciation to TECO and said, "This event has brought two cultures together. I'm truly grateful to be able to collaborate with TECO. The event gave us the opportunity to understand the amazing concept of AR and VR and how it can be utilised in this creative world." Meanwhile, he also expressed his anticipation for the fourth instalment which will be held next year.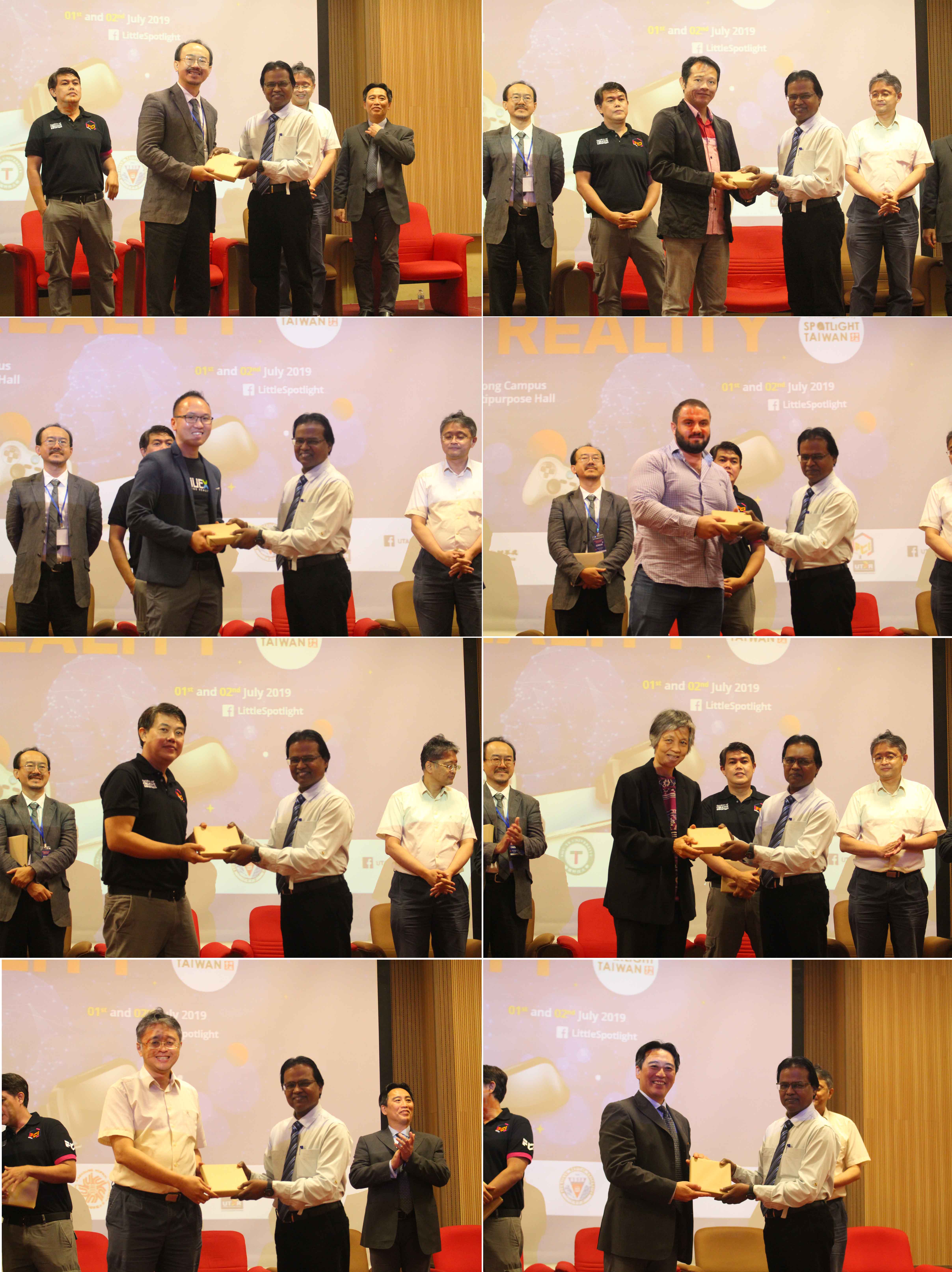 Thinavan (right) presenting a token of appreciation to (clockwise from left) Dr Chen, Havene Liew, Justin Wong, Emil Petrosyan, Dr Aloysius Yapp, Prof Ong, Prof Cheng and Chang
(Courtesy pictures from Eyok)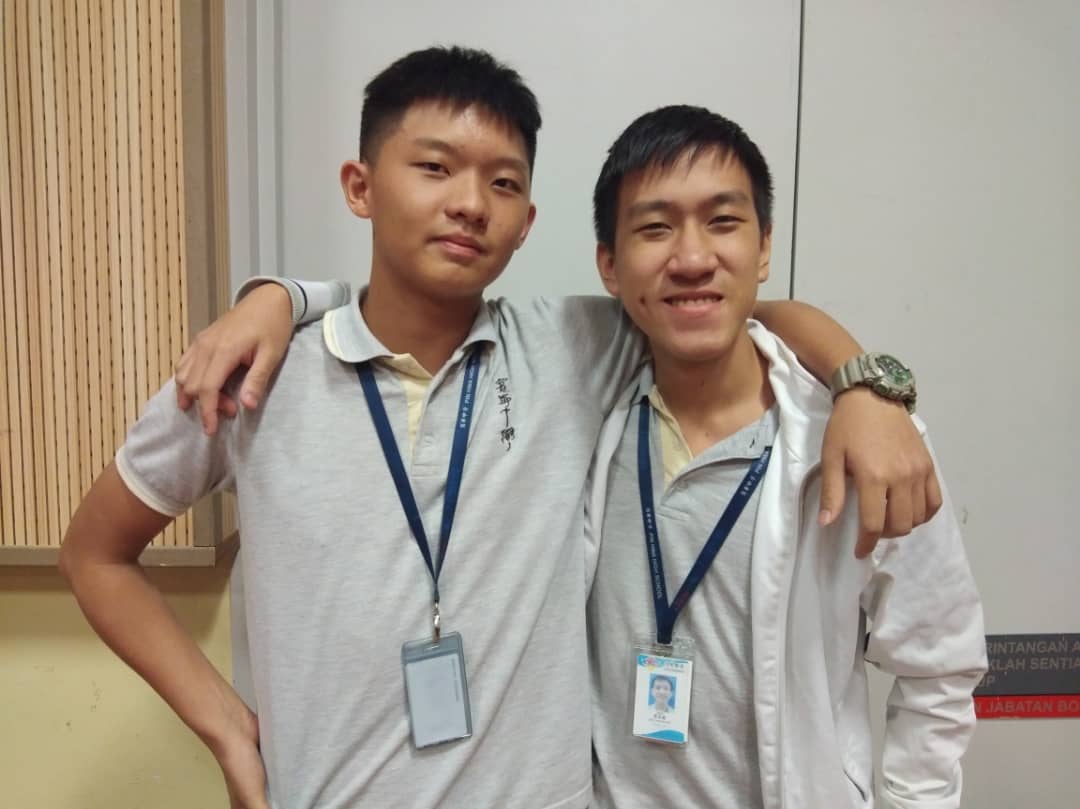 Tan (left) and Lee Chong Wei
When asked, a student from Pin Hwa High School Tan Tai Yuan said, "Before I attended this event, I only knew about VR and AR, but not the Mixed Reality (MR) and Extended Reality (XR). The speakers were very informative. I got to learn a lot of new things today. The best part of the event was learning about the application of XR in movies and games. In my opinion, the usage of AR and VR in the market will increase in the future. As one of the speakers mentioned earlier, these technologies enable one to use their hands or talk to the AI without using the mouse and keyboard, similar to the movie Ironman. Hence, I believe the market will grow bigger and bigger to fit with the consumers' needs."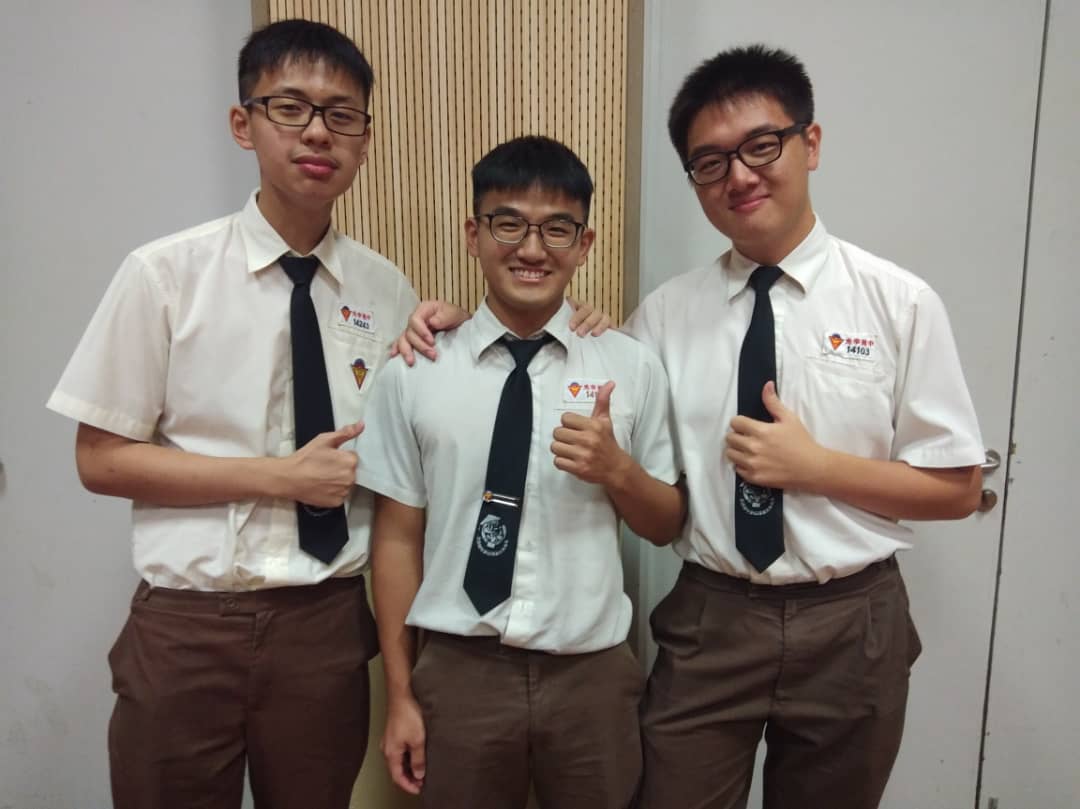 From left: Huang Yu Jun, Khoo and Gue Jing Xuan
According to Khoo Chong Wei from Kwang Hua Private High School, it is his first time joining an event related to VR and AR. He found the talks interesting and he managed to gain some knowledge through the talks. "Although this event might not be helpful for my studies, it might help me in the future. The best part of this event is the games. There were games booth provided for us to play during our break time. I hope there will be more booths set up in the future. It helps us to better understand and experience VR and AR technology. I believe there will be more VR and AR technologies in the future as we are living in a high technology era."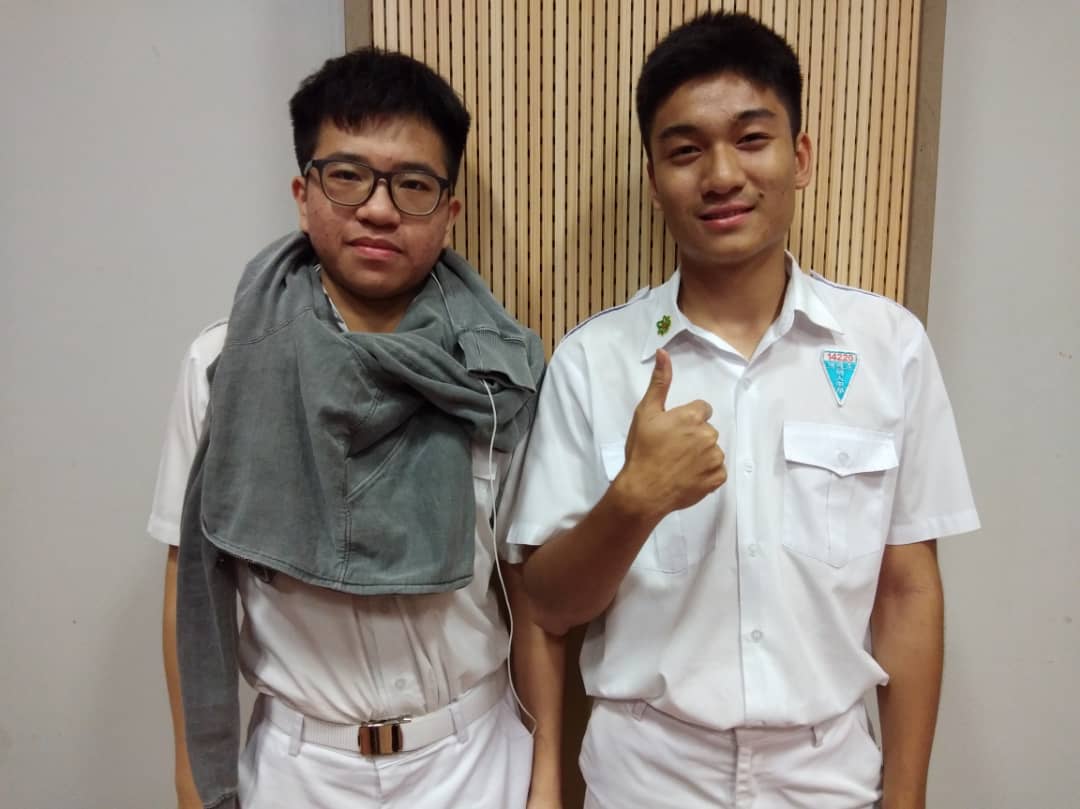 Liew Ze Li (left) and Lew
Lew Yan Wei from Tsun Jin High School said, "I learned a lot of new things today. The speakers were informative. They enabled us to understand more about the areas of VR and AR. The best part of the event was the visual presentations and videos presented during the talks and the games booth. I wish to become an interior designer in the future. I think it may involve the usage of VR and AR as well. I believe the demand for VR and AR will definitely increase."
Community outreach—a visit to Bibik Emas Heritage was organised to wrap up the event. It enabled participants to experience the Nyonya culture.
The event was sponsored by TECO.

Some of the participants during Q&A session
(Courtesy pictures from Eyok)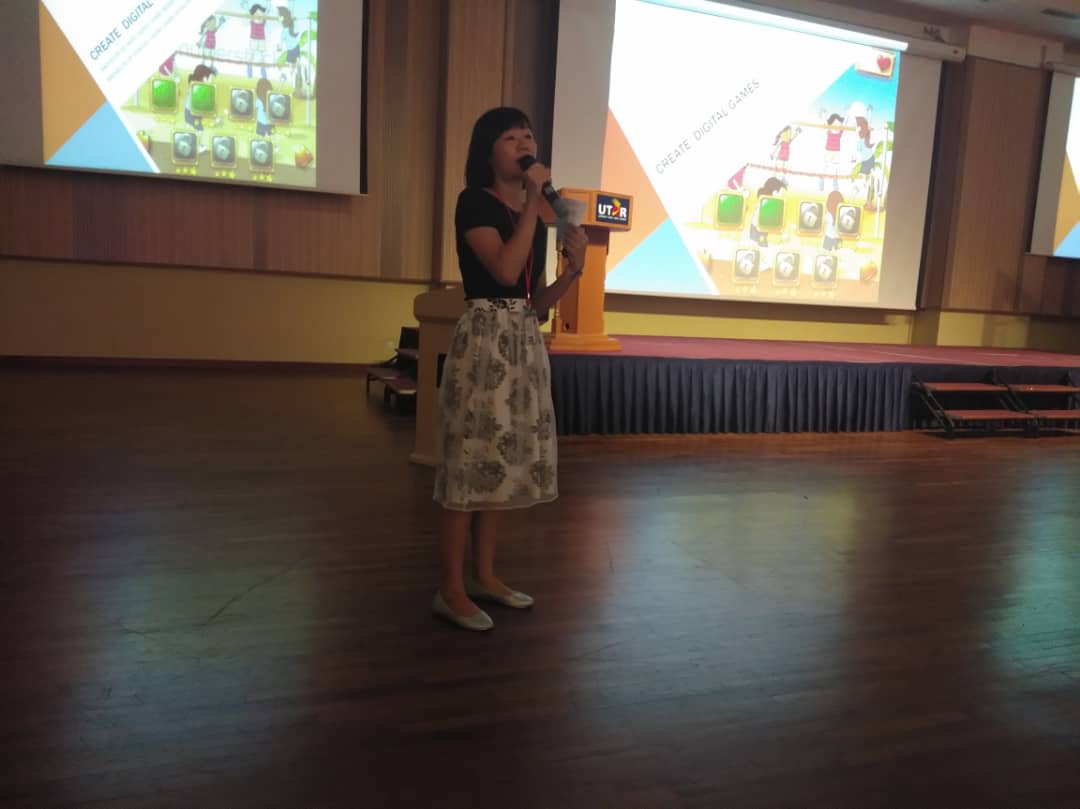 FCI Department of Mass Communication lecturer Tan Jue Jun providing an overview of FCI programmes

Some cute items displayed at Early Childhood booth
(Courtesy pictures from Eyok)

Some models at Games Design booth
(Courtesy pictures from Eyok)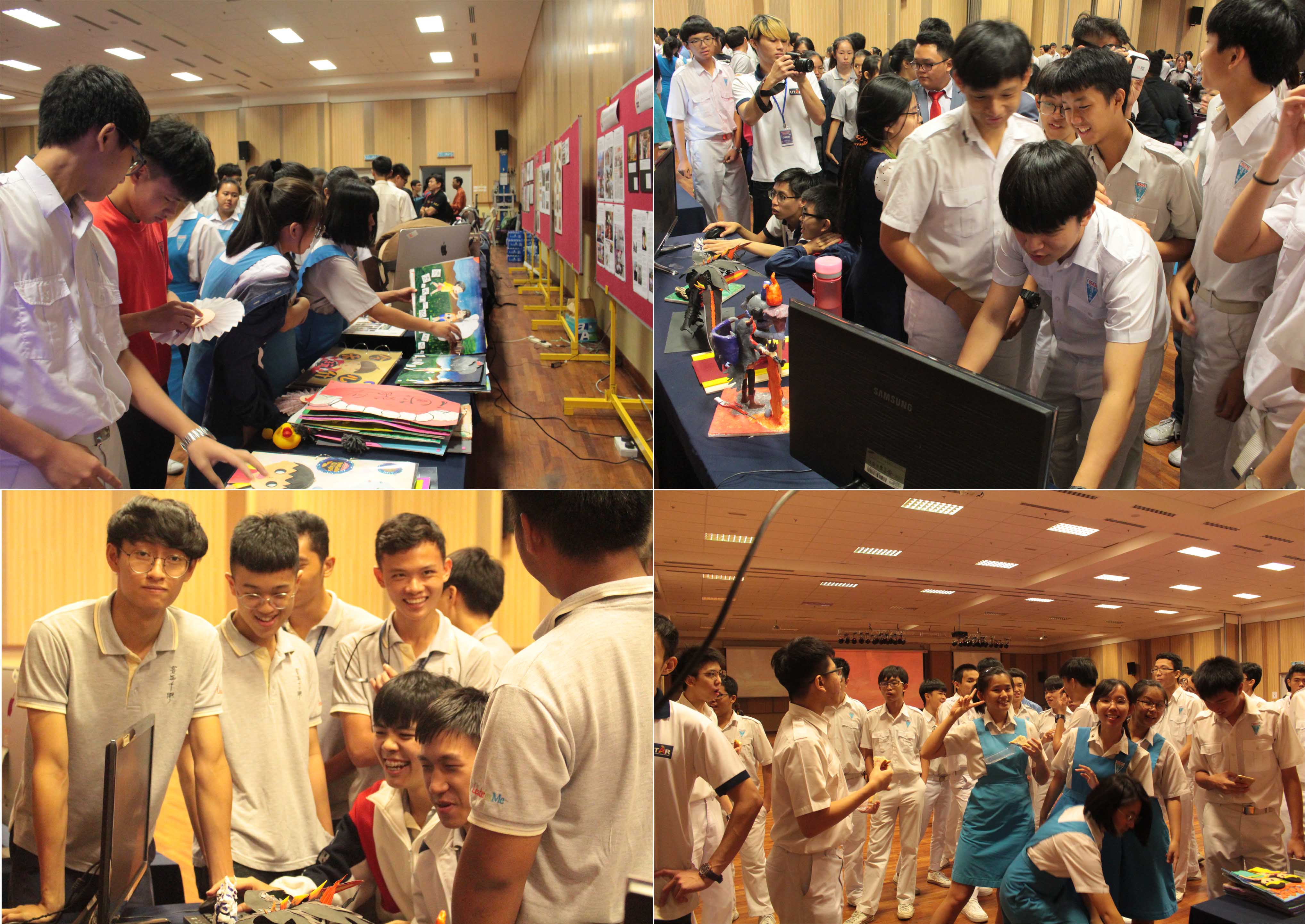 Students at games booth during the break time
(Courtesy pictures from Eyok)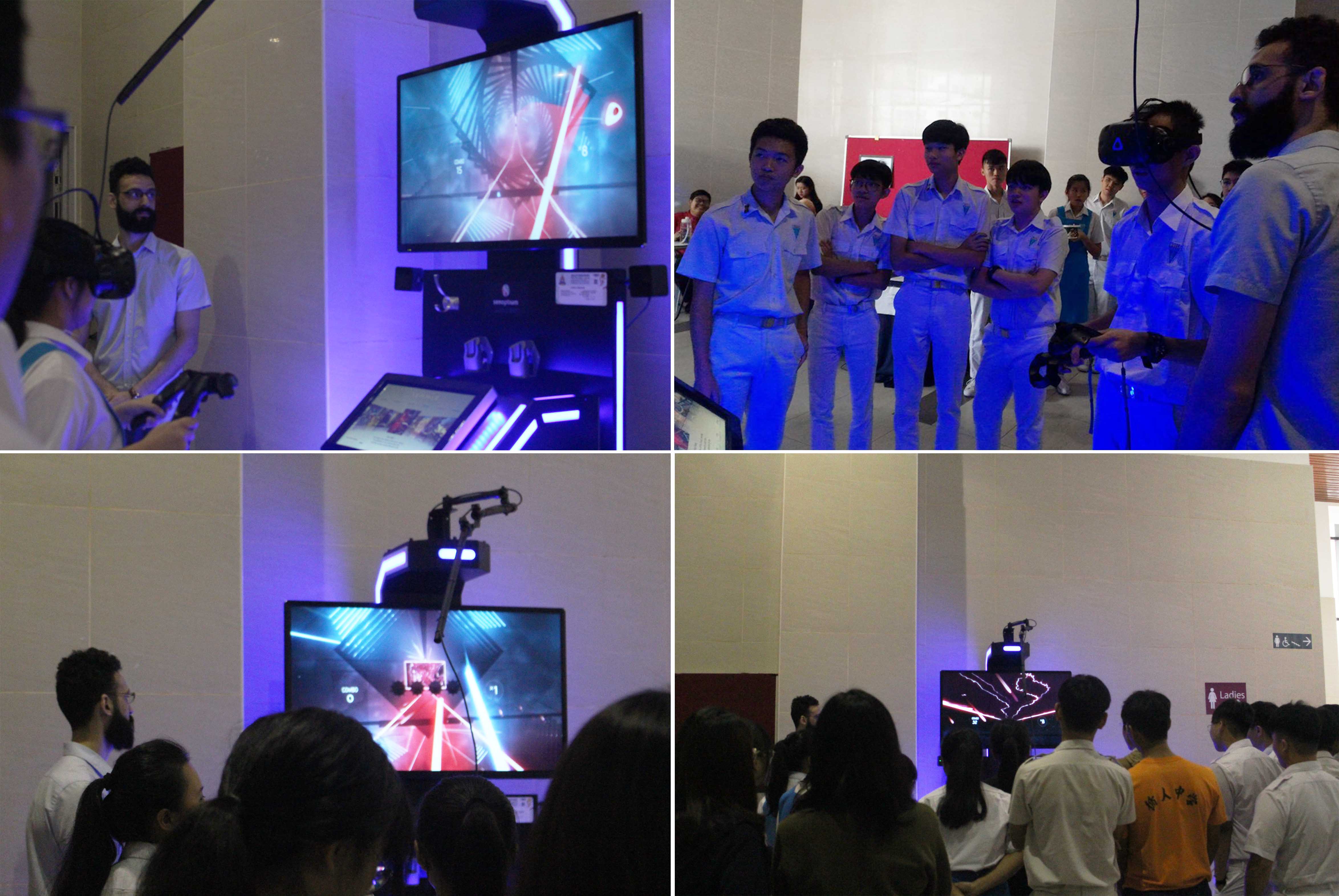 Students playing the VR games
(Courtesy pictures from Eyok)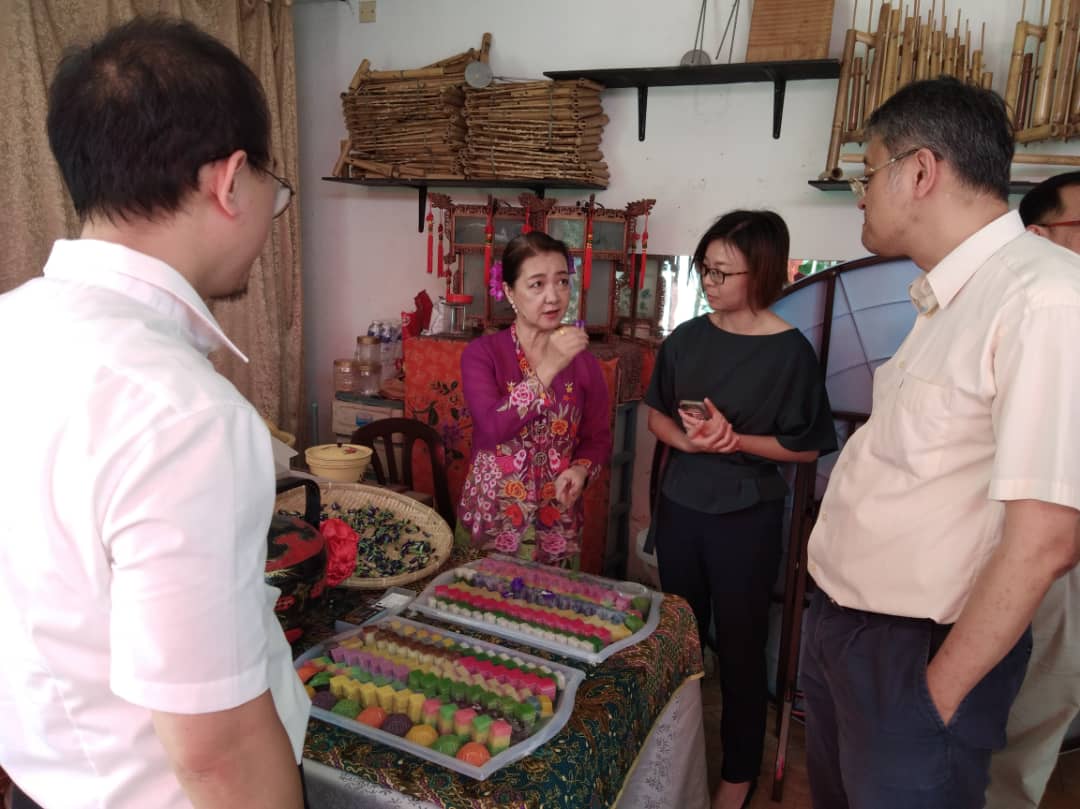 Founder-cum-President of International Cultural Exchange & Tiara Emas Heritage Association Peggy Zhang (middle) explaining the use of 'Bunga Telang'

Homemade Nyonya Rainbow 'Kuih-Muih'
Peggy Zhang (left) demonstrating how to prepare traditional Nyonya cooking while explaining the Nyonya custom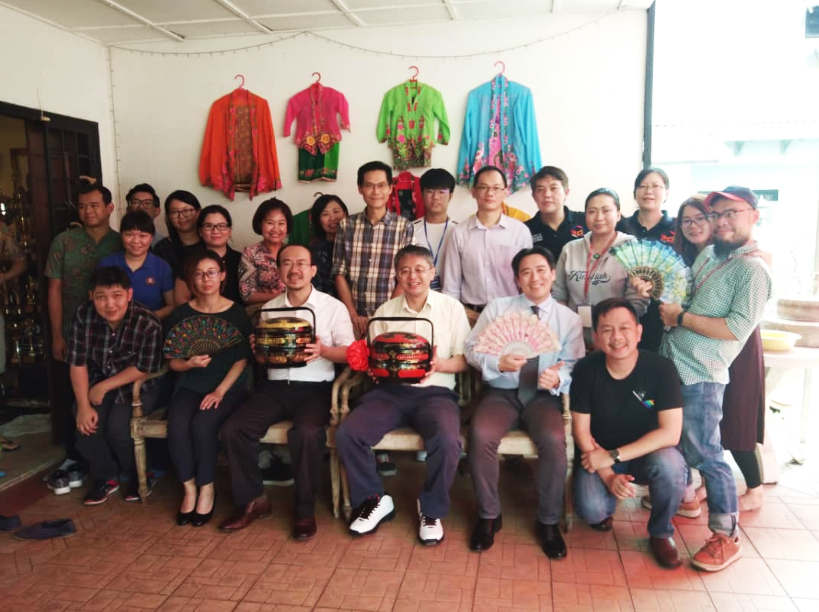 Seated from left: Lin, Dr Chen, Prof Cheng and Chang with UTAR staff at BiBik Emas Heritage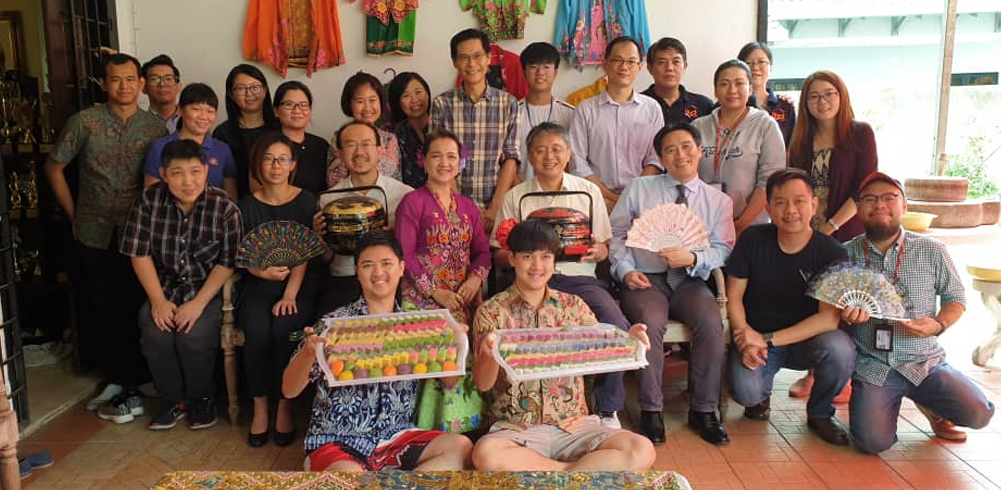 Second row, second from left:Lin, Dr Chen, Peggy Zhang, Prof Cheng and Chang